8 killer tips for small bathrooms
Do you feel like you simply don't have enough space in your bathroom and it's all a mess? Or do you struggle with storing all your makeup? Bathrooms are always tricky since we have so much stuff to store but with the help of these ideas you'll find it easy to organize even the tiniest space.
Make the most of your space
There's always some extra space to use under or above the sink or an item of furniture we fail to utilize because we feel like it's such a fuss to get the towels from the top of the shelves or the sheets from underneath a basin unit. Get some extra baskets and utilize these spaces. Getting toilet paper from the floor is not that big of a deal.
Use storage as decoration
If you have an open storage unit for makeup, towels or other things, use small baskets, some flowers or glass containers to accessorize your space and make it look organized. Be practical and put your cotton pads in glass containers or get some nice boxes for your makeup items. Fold your towels nicely so that they look neat.
Hang your hair styling tools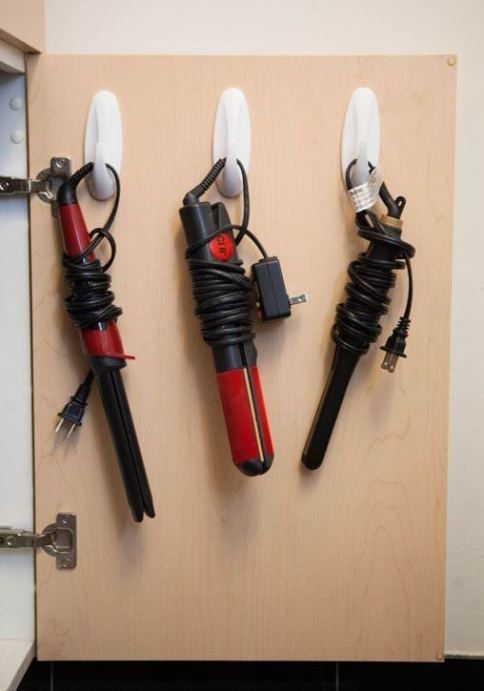 The easiest way to store your styling tools is to hang them as you do with your towels or robes. Storing your straightener or curling wand like this also protects them from any damage – this way you don't only save space but take good care of your styling tools.
A shoe organizer in the bathroom? Hell yeah!
Be creative with your storage units – you don't have to stick to ones designed for the bathroom, you can use a shoe rack or any hanger you like. Use hangers on the back of your door or anywhere they fit, you can put them under each other if you'd like. You'll have more room and everything will look organized even if you're in a hurry.
Put your towels in a basket
Folding your towels and placing them on top of each other is not the only way to store towels. They might take up less space if you roll them up and place them on your shelves or in a drawer. They look great neatly folded in open storage spaces, too. If you decide to go for baskets, store towels vertically, this way you'll always see the selection you have.
Store makeup in glass containers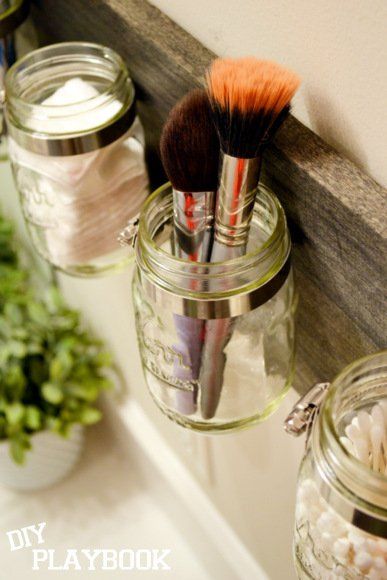 Everyone likes a good crafts session. Take some time to make your own containers using jars or any bottles you have. Decorate them with ribbons or label them so that they look nice and neat. You can also try putting coffee beans on the bottom – they look great and they get rid of smells.
Organize your space under the sink
The under the sink area is usually a mess in every bathroom. No matter how often you put everything back to its place, makeup items end up lost in towels, hair styling tools get mixed up with cleaning products… What you need is a shelving unit with baskets of different sizes. Organize things well: put everything you use on a daily basis on the top self and work your way down. Being organized will be a huge help as you run around like a crazy person when in a hurry.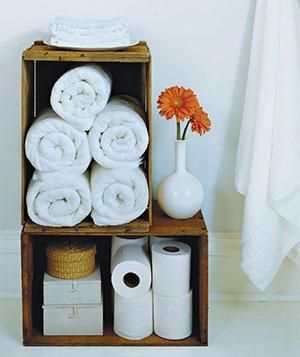 Add wall-hung units
We usually put shelves or maybe some hangers on the wall but if you're dealing with a really small space, it might be a good idea to add some wall-hung units. Grab some extra baskets for towels or jewellery and hang them on the wall. They're easily accessible so you won't have trouble finding things.
---
Share this article.