6 easy ways to fill your home with positive energies
Your home is supposed to be the place where you actually feel at home: a safe haven, a personal space for you to unwind, rest and recharge. Energies that feels your home do matter - give these easy tips a go if you're looking to increase positive energies at home
1. Declutter your home
A clean, clutter-free space will make you feel nice and calm, positive and inspired so start with taking care of those stuff you've let pile up during the week. A messy environment can lead to decreasing energy levels and depression. Get rid of everything you don't need or use anymore - find friends and family members who might need them or give them to charity. Often times our unconscious is emotionally attached to certain objects so be mindful of how certain things make you feel. You might need to get rid of stuff that reminds you of your past or certain people from your past - your present self might not benefit from keeping such things. Being open to experiencing new things mist manifest in the physical world as well.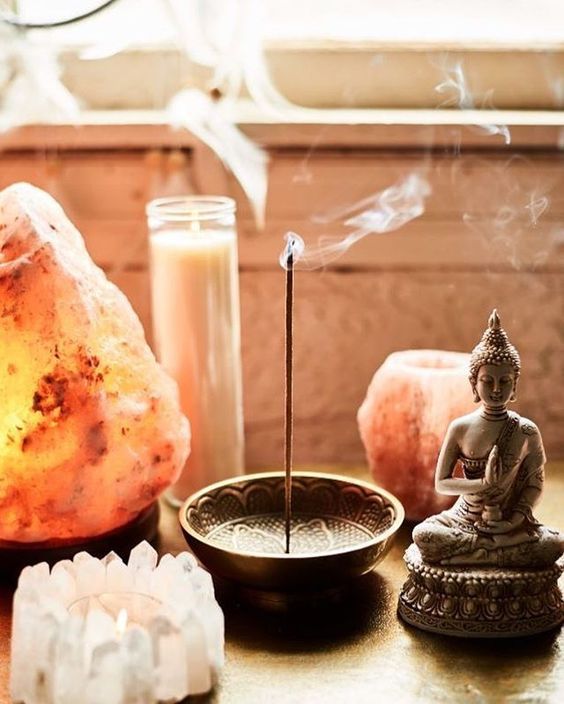 2. Be mindful of proper ventilation and lighting
Dark spaces attract negative energies so try to let as much natural light in as possible. Open your windows several times a day to let some fresh air in. Spaces that do not have enough natural light can benefit from having a salt lamp - salt lamps are not only aesthetically pleasing: health benefits of salt lamps include stress relief and purified air. If adequate ventilation is challenging, try surrounding yourself with plants. Plants will also purify the air, plus having them around will definitely boost your mood.
3. Use white sage
White sage has been widely used to clear bad energy for centuries. White sage, also known as salvia apiana, is believed to bring stability and safety to a home. It also used to calms nerves and purify the air. Put some white sage into your censer and let the scent fill every corner of your house.
4. Give bells a go
Sounds have the power to heal as they increase the vibration of energies. Singing bowls and bells are perfect for therapeutic purposes since their frequencies boost positive energies and have a beneficial effect on chakras. Sounds balance the functioning of the left and right hemispheres of the brain, have a stress-relieving, relaxing effect and reduce anxiety bringing peace and tranquility to your home.
5. Choose your crystals
Crystals are able to recalibrate the energies of your home as they absorb and clean the space from negative energies. Their vibration has a beneficial effect on humans as well. Some great crystals to introduce to your home include:
Clear Quartz is known as "The Master Healer." It can be used for anything and everything: it absorbs negative energies and is great for cleansing. It helps to eliminate stress, anxiety and it grounds you. It is recommended you place one near your computer, tv or kitchen utensils so that it could absorb the negative energies.
Rose quartz creates harmony, helps facilitate a peaceful environment and heals relationships. Place rose quartz in your bedroom to keep romance alive. It also deepens the love and trust you have for each other.
Amethyst helps you on your spiritual journey as it absorbs stagnant and negative energies, plus it protects you. It boosts creativity and strengthens intuitions. Place this crystal in your office or any other room where you meditate, rest or work.
Jades are one of the best crystals to have around for family harmony and friendships. It grounds emotions and creates stability, health and attracts good luck. It's best to place some in your office or near the entrance of your home or any other central area.
Tiger's eye helps keep negative people, situations and energies away. Use this crystal for a short period of time as it is extremely powerful: it has the power to recharge your energies and helps you find motivation so that you would reach your goals. Due to its strengthening qualities, it's perfect for the study, an office space or any other space that lacks positive vibes needs recharging.
6. Get an essential oil diffuser
Essential oil diffusers and censers are great for clearing bad energy and increase positive ones. Incense, jasmine or sandalwood are all perfect for this, as they help to protect you and clear your place from lower energy levels. Citrus fruits like lemons or oranges attract good vibes like happiness and motivation. Floral scents such as roses or lavender reduce anxiety and facilitate harmonious relationships.
---
Share this article.